QUEEN in 3-D – a STEREOSCOPIC MASTERPIECE
capturing THE HISTORY OF QUEEN through
BRIAN MAY's own 3-D camera lenses.
QUEEN in 3-D, published in hardback, features over 300 personal stereo views, the book housed in a slipcase with lenticular 3-D front cover, together with an exclusive Brian May patent OWL 3-D viewer.
Published by the London Stereoscopic Company, 25th May 2017, £50
"The closest thing to an autobiography May has written."
The Bookseller
"The whole process of writing this new kind of book was almost subconscious. As I looked at the 3-D photos, memories were triggered and the stories poured out. It's the 3-D element that makes it so evocative. I believe each image will draw readers in deeper, like me, inviting them to immerse themselves in a scene, to share a previously unseen Queen moment."
Brian May
Many books have been written about Queen, but this is a first – an intimate view from the inside by a founder band member; it's also the  first history of any rock group ever to be created in 3-D.  Not only has Brian May written the book (no 'ghost writer' here), but the 3-D illustrations were all captured with Brian's stereoscopic cameras, mostly by the man himself. From an early age Brian would travel with a stereo (3-D) camera in hand, so on Queen tours and during recordings he was able to capture rare behind-the-scenes moments of one of the world's greatest rock bands. Decades later these are now being shared for the very first time. Some of the photographs had not even been fully processed until the book was in the making. Initially thought by Brian to be a quick job, this project turned into a labour of love for May and his team which spanned three years. Each time the book seemed to be close to completion, more 3-D photos were found in forgotten hiding places, prompting further memories and filling in the gaps in the narrative. The book eventually became a compelling set of snapshots of Brian's life and the life of Queen, over more than 50 years.
Published as a lavish, high quality bedside table book by Brian's own 'London Stereoscopic Company', Queen in 3-D reveals the band through May's eyes throughout the band's history. The book is illustrated with around 360 photographs, mostly viewable in stereoscopic splendour (stereoscopy being the legitimate parent of 'Virtual Reality') using the OWL viewer supplied.  In addition to capturing scenes himself, on occasions Brian would loan his camera to friends or local photographers, so that he too could be framed on his journey. Brian narrates the stories behind each of his photographs through a lively, engaging prose. Often he is light and conversational in tone, but at other times he can be intensely reflective and philosophical, drawing the reader deeper into the image, the time and the space. Most of these recollections about himself and fellow band members Freddie Mercury, Roger Taylor and John Deacon, Brian shares here for the first time. Some of the pictures were taken on stage; others behind the scenes, including informal shots taken on the road and during leisure time, giving close-up glimpses of the band as never seen before. Freddie, an enigmatic character, fiercely protective of his privacy, usually shied away from being photographed  off stage.  But he interacted playfully and unselfconsciously with Brian's camera, and here we catch rare glimpses of this consummate showman as viewed by his band mate and close friend.  Current fans of the band will also enjoy the modern sections, including on and off stage moments with Adam Lambert.
This is an important book, not only capturing the very essence of one of the world's all-time greatest bands, but also exploring the culture, politics and atmosphere of the many territories where Queen performed. Brian has created a text that chronicles changes in the music industry alongside major changes in the history of the world.
HOW TO VIEW THE IMAGES IN 3-D:
In order to share the magic of original Victorian style 3-D with a 21st century audience, Brian designed his own unique stereoscope, the OWL, which has become a standard in the world of stereoscopy.
Each copy of the book comes with a special edition Freddie-Mercury-Wembley-Stadium-Jacket Yellow OWL, packed neatly into the book's slipcase in its own protective envelope. Your OWL is all you need to take you into the stunningly real three-dimensional world of Queen encapsulated in this book.
OTHER BRIAN MAY AND QUEEN ACTIVITY:
Queen + Adam Lambert begin a 26 date North American tour on 23rd June this year in Phoenix, Arizona. The tour includes two concerts at the famed Hollywood Bowl, Los Angeles (June 26, 27) and concludes on 5th August in Houston, Texas. The band will debut a brand new show specially designed and created for this outing, bringing fans all their favourite Queen hits, including "Bohemian Rhapsody", "We Will Rock You", "We Are The Champions", "Another One Bites the Dust", and "Radio Ga Ga". The high-energy concert will bring their catalogue alive in all its passion and glory.
Brian is due to release a stunning new studio album in collaboration with singer Kerry Ellis, entitled Golden Days, on 7th April.
The brand new Queen version of the game of Monopoly, which Brian had more than a hand in designing, will hit shops in mid-April. Players of the game will experience life on the road, following in the footsteps of Queen's conquest of the world. The decisions they make will determine whether or not they make it in the Music Business ! This game is expected to be one of the Monopoly's biggest sellers ever.
The much anticipated film based on Freddie's life inside and outside of Queen is finally gathering momentum and a full announcement is expected soon. Brian and Roger will supervise the musical content of the movie.
ABOUT THE AUTHOR:
Brian May, founder, member and lead guitarist with the rock band Queen, and co-creator of the international rock theatrical, We Will Rock You, is also a PhD physicist specialising in Zodiacal dust, a passionate campaigner for animal rights, and a lifelong 3-D photography enthusiast. Most recently, he has become a successful publisher, dedicated to sharing his collection of Victorian stereo photographs with the world through the books released by the London Stereoscopic Company (a recreation of the company originally founded in 1854). Brian is currently committed to touring with Queen for much of the year, with Adam Lambert as lead vocalist, and also composes, records and performs with singer Kerry Ellis, a founding star of We Will Rock You, and successful West End and Broadway performer. Brian's latest ventures include creating 3-D, 360-degree virtual reality movies, including a soon-to-be-released Virtual Reality film clip of Queen and Adam Lambert's recent performance in Barcelona – the piece playfully entitled "VR the Champions" !
ABOUT THE IMPRINT AND THE HISTORY OF THE LONDON STEREOSCOPIC COMPANY
Some time in 1854 'The London Stereoscope Company' was born. Its business was selling stereo views and viewers to the public, and they were leaders in a huge boom – a craze which swept England, Europe, and eventually the United States too, of stereo photographs of every conceivable subject, which, viewed by means of a stereoscope, presented scenes in life-like three dimensions. In a world which had never experienced Television, the Movies, or the Internet, this was a major sensation. In February 1856, The London Stereoscopic Company (LSC) advertised, in the Photographic Journal, "The largest collection in Europe, upwards of 100,000 stereo views."
BRIAN MAY'S introduction to stereoscopy was as a child finding 3-D cards in his breakfast cereal. In the 1950s Weetabix gave away free coloured stereo cards in their packets, along with an opportunity to send off one-and-sixpence for the stereoscope required to view them. Brian, discovering that he could free- view them without the viewer too, was entranced, and quickly figured out how to make his own stereo views, and was hooked for life. Scouring Portobello Road market for stereoscopic items some years later, Brian discovered the intriguing Diableries cards, which stirred a special passion, which was to lead to the Diableries book 40 years later. While studying Astronomy at Imperial College, Brian became a regular viewer at Christie's photographic auctions, at the time a rich source of long forgotten stereo views from the 1850s onwards which were turning up in people's attics. In 2008 Brian realised his dream of recreating The London Stereoscopic Company, its aim to bring the magic of true stereoscopy to the modern world. In order to share Victorian 3-D, Brian designed his own OWL stereoscope, which is now produced in large quantities. The OWL has become a new standard around the world in stereoscopic viewing. In 2011 Brian met a redoubtable French scholar, Denis Pellerin, one of the world's experts on French and English Photographic History. Their two passions connected immediately, and Denis became Brian's curator, conservator, researcher, and co-author. Denis also stepped up to assume the role of editor for Queen in 3-D.
The London Stereoscopic Company is now restoring and republishing Victorian classic cards, as well as original stereoscopic works on other subjects. Finally the LSC completed the picture by entering into book publishing, each new work accompanied by an OWL stereoscope included in the package. The first four titles are A Village Lost and Found (based on a celebrated series by TR Williams made around 1853), Diableries (the entire genre of 1860s French Devilments brought together for the first time), The Poor Man's Picture Gallery (exploring for the first time the connections between stereo views and paintings from the Pre-Raphaelite era) and Crinoline (a compelling, visually striking 3-D account of fashion's most celebrated yet also most disastrous garment).
The London Stereoscopic Company is the ONLY publisher in the world dedicated exclusively to publishing stereoscopic works.
"Our mission is to share the world's greatest 3-D images, from Victorian times to the present day."
Brian May
BRIAN MAY'S OWL:
Brian has created the definitive high-quality modern-day stereoscope; reminiscent of an Owl, he named it just that. Every book the LSC publishes comes with an Owl, and the illustrations in the book, reproduced by the highest resolution printing technology available will, through this device, delight you all just as they did in Victorian times.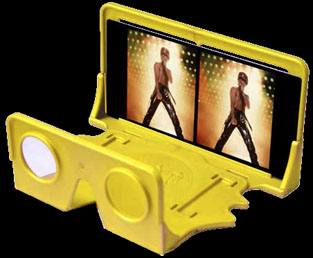 FURTHER COVERAGE:
TEAM ROCK.com
Brian May to publish Queen In 3D in May
29 March 2017 by Scott Munro