In Italian:
CORRIERE DELLA MUSICA
Brian May: Queen In 3-D Finally In Italy
20 August 2017  Books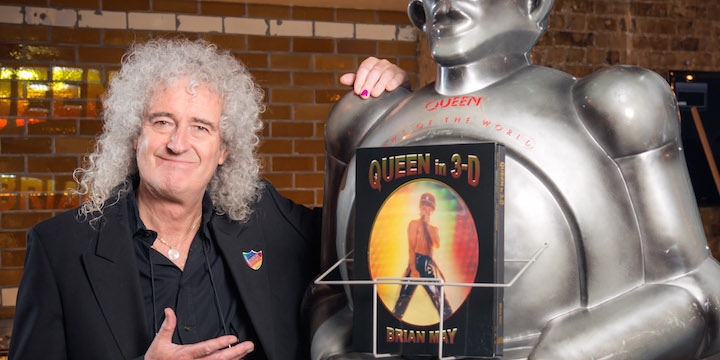 Brian May: Queen In 3-D Finalmente In Italia
20 agosto 2017 Libri
UN CAPOLAVORO STEREOSCOPICO che racconta LA STORIA DEI QUEEN attraverso gli scatti in 3-D di BRIAN MAY
www.queenin3-D.com
QUEEN IN 3-D: sarà pubblicato il 6 ottobre da Edel Italy, raccoglie più di 300 illustrazioni stereo inedite, il libro si presenta in un cofanetto con foto lenticolare 3-D in copertina e con un esclusivo stereoscopio OWL 3-D brevettato da Brian May
Tradotto da Raffaella Rolla
PUOI PREORDINARLO QUI:
http://bit.ly/Queen_3-D_Amazon
http://bit.ly/Queen_3-D_Ibs
http://bit.ly/Queen_3-D_ Feltrinelli
"La cosa più simile a un'autobiografia che May abbia scritto"
The Bookseller
"L'intero processo di scrittura di questo nuovo libro è stato quasi subconscio. Mentre guardavo le foto in 3-D i ricordi si risvegliavano e le storie uscivano di getto. È l'elemento 3-D che rende tutto così evocativo. Credo che ogni immagine coinvolgerà i lettori più a fondo, come è successo a me, rendendoli partecipi di una scena, condividendo un inedito momento Queen".
Brian May
Sono stati scritti numerosi libri sui Queen, ma questa è una novità assoluta – una visione intima dall'interno da un membro fondatore della band; ed è anche la prima storia di un qualsiasi gruppo rock mai realizzata in 3-D. Non solo Brian May ha scritto il libro (non c'è un 'ghost writer' qui), ma le illustrazioni in 3-D sono state tutte scattate con le sue fotocamere stereoscopiche, per lo più da Brian stesso. Fin dagli esordi  Brian era solito portare con sé una stereocamera (3-D), così durante i tour dei Queen o durante le registrazioni poteva catturare dei rari momenti dietro le quinte di una delle più grandi rock band mondiali. Ora, a distanza di decenni, queste immagini vengono condivise per la prima volta. Alcune foto sono state completamente processate solo durante la realizzazione del libro. Pensato inizialmente da Brian come un lavoro veloce, questo progetto si è trasformato per May e il suo team in una vera e propria passione che li ha travolti per più di tre anni. Ogni volta che il libro sembrava prossimo alla conclusione, ecco sbucare delle nuove foto in 3-D, dimenticate chissà dove, che suscitavano una nuova ondata di ricordi arricchendone la narrativa. Il libro alla fine è diventato una raccolta avvincente di scatti della vita di Brian e dei Queen nell'arco di oltre 50 anni.
Pubblicato come un elegante libro da comodino d'alta qualità dalla casa editrice di Brian 'London Stereoscopic Company', Queen in 3-D svela la band, vista attraverso gli occhi di May, nel corso della sua lunga storia. Il libro comprende circa 360 illustrazioni fotografiche, la maggior parte delle quali visibili nello loro splendore stereoscopico (essendo la stereoscopia madre legittima della Realtà Virtuale) utilizzando il visore OWL incluso. Oltre a catturare lui stesso delle immagini, occasionalmente Brian prestava la sua fotocamera ad amici o fotografi locali, in modo di essere immortalato anche lui in questo viaggio. Brian racconta la storia che si cela dietro a ogni immagine in una prosa vivace e coinvolgente. Spesso in modo leggero e colloquiale, ma a volte anche molto riflessivo e filosofico accompagnando il lettore verso un contatto più profondo con l'immagine, lo spazio e il tempo. La maggior parte di questi ricordi di Brian riguardanti se stesso e i suoi colleghi della band Freddie Mercury, Roger Taylor e John Deacon sono qui condivisi per la prima volta. Alcune immagini sono state scattate sul palco; altre dietro le quinte, compresi alcuni scatti personali fatti in viaggio e durante il tempo libero, dando una visione ravvicinata della band mai vista prima. Freddie, un personaggio enigmatico, gelosamente protettivo della sua privacy, cercava di defilarsi una volta giù dal palco, evitando di essere fotografato. Ma interagiva in modo giocoso e inconsapevole con la fotocamera di Brian e qui vediamo dei rari scorci di questo fenomenale showman immortalati dal suo compagno di band e amico intimo. Gli attuali fan della band potranno inoltre apprezzare le sezioni contemporanee, comprendenti momenti sul palco e fuori con Adam Lambert.
Questo è un libro importante, non solo perché cattura l'essenza stessa di una delle più grandi band mondiali di tutti i tempi, ma esplora anche la cultura, la politica e l'atmosfera dei numerosi paesi in cui i Queen si sono esibiti. Brian ha creato un testo che racconta i cambiamenti avvenuti nell'industria musicale insieme ai grandi cambiamenti della storia mondiale.
COME VEDERE LE IMMAGINI IN 3-D
Per condividere la magia dell'originale stile 3-D vittoriano con il pubblico del 21° secolo, Brian ha progettato il suo esclusivo stereoscopio, detto OWL (il gufo), che è diventato uno standard nel mondo della stereoscopia. In ogni copia del libro è inserita una edizione speciale del visore OWL, di colore giallo Wembley (la leggendaria giacchetta gialla indossata da Freddie Mercury a Wembley), riposto con cura nel cofanetto del libro nella sua busta protettiva. Il tuo OWL è tutto ciò che serve per portarti nel mondo reale incredibilmente tridimensionale dei Queen racchiuso in questo libro.
Altre attività di Brian May e dei Queen:
I Queen + Adam Lambert hanno iniziato un tour di 26 date il 23 giugno  partendo da Phoenix, in Arizona. Nuove date sono previste in autunno e passeranno dall'Italia il 10 novembre (Unipol Arena). La band presenterà uno spettacolo nuovo di zecca appositamente progettato e creato per questo tour, portando ai fan le loro hit preferite dei Queen, tra cui "Bohemian Rhapsody", "We Will Rock You", "We Are The Champions", "Another One Bites The Dust", e "Radio Ga Ga". Nel concerto, ad alta energia, i Queen presenteranno il loro catalogo live in tutta la sua passione e gloria. Brian ha pubblicato lo scorso 7 aprile "Golden Days", un sorprendente nuovo album in studio con la cantante Kerry Ellis. La nuovissima versione del gioco del Monopoly dei Queen, alla quale Brian stesso ha collaborato, è attualmente in vendita nei negozi. Gli appassionati di questo gioco sperimenteranno la vita on the road dei Queen, seguendo le orme della band alla conquista del mondo. Le decisioni prese determineranno se sei in grado di farcela oppure no nel mondo della musica! Questa versione Queen del Monopoly promette di inserirsi fra i bestseller di sempre. Il film molto atteso basato sulla vita di Freddie, dentro e fuori dai Queen, è finalmente giunto al traguardo e un annuncio ufficiale è previsto entro breve. Brian e Roger supervisioneranno il contenuto musicale del film.
RIGUARDO ALL'AUTORE
Brian May, membro fondatore, e chitarrista del gruppo rock Queen, e co-creatore del musical rock teatrale internazionale We Will Rock You, è anche un astrofisico con dottorato di Ricerca nella Polvere Zodiacale, un appassionato attivista nelle campagne per i diritti degli animali, e da sempre un appassionato di fotografia in 3-D. Recentemente, è diventato un editore di successo, decidendo di condividere con il mondo la sua collezione di stereofotografie vittoriane stereo attraverso i libri pubblicati dalla London Stereoscopic Company (una ricreazione della società originariamente fondata nel 1854). Brian è attualmente impegnato in tour  con i Queen, con Adam Lambert alla voce, per buona parte dell'anno, e inoltre compone, registra e si esibisce con la cantante Kerry Ellis, una delle star del cast originale di We Will Rock You e attrice di successo nella West End e a Broadway. Le ultime iniziative di Brian comprendono la creazione in 3-D, a 360 gradi, di film in realtà virtuale fra cui un video clip, di imminente pubblicazione, realizzato durante il recente concerto dei Queen e Adam Lambert a Barcellona- e scherzosamente intitolato "VR the champions".
LA TRADUZIONE
E' affidata a Raffaella Rolla, una vera "Queen expert" oltre che traduttrice di grande esperienza e capacità. Segue il gruppo da più di 20 anni e tra le altre cose ha lavorato per i Queen nella produzione italiana del musical We Will Rock You, per il Mercury Phoenix Trust, per la mostra permanente Queen Studio Experience di Montreux e alla precedente traduzione del libro "La Red Special di Brian May".
"Le mie parole sono al sicuro nelle mani di Raffaella, anzi non sono mai state così al sicuro". Brian May
www.londonstereo.com
Brian May
Queen In 3-D
Luca Garrò
Giornalista musicale con esperienza decennale, Luca Garrò scrive o ha scritto per alcune delle riviste musicali più note del nostro paese, da Rolling Stone a Jam, passando per Rockstar, Rocksound, Onstage e Classic Rock, oltre ad essere uno dei fondatori del magazine online Outune.net. Appassionato di classic rock fin dall'infanzia, ha scritto centinaia di articoli sugli argomenti più disparati e sta curando una biografia su Brian May, di cui è amico da diversi anni. Da cinque anni è tra i curatori del Dizionario del Pop Rock Zanichelli.
—–
ENGLISH TRANSLATION
E&OE
A STEREOSCOPIC READER telling THE STORY OF QUEEN through the 3-D shots of BRIAN MAY
www.queenin3-D.com
QUEEN IN 3-D: will be released October 6  by Edel Italy, collects more than 300 unpublished stereo illustrations, the book is presented in a 3-D subtle photo cover on the cover and an exclusive 3-D OWL stereoscope patented by Brian May
Raffaella Rolla
YOU CAN PREORDER  HERE:
http://bit.ly/Queen_3-D_Amazon
http://bit.ly/Queen_3-D_Ibs
http://bit.ly/Queen_3-D_ Feltrinelli
"The most similar to an autobiography that May wrote"
The Bookseller
"The whole process of writing this new book was almost subconscious. As I watched the photos in 3-D memories woke up and the stories came out of jet. It is the 3-D element that makes everything so evocative. I believe every image will involve readers more deeply, as happened to me, making them part of a scene, sharing an unprecedented Queen moment. "
Brian May
Numerous books on the Queen have been written, but this is an absolute novelty – an intimate insight from within by a founding member of the band; and is also the first story of  any one rock group ever made in 3-D. Not only did Brian May write the book (there is no ghost writer here), but the 3-D illustrations have all been shot with his stereoscopic cameras, mostly from Brian himself. Since its inception, Brian used to wear a stereocamera (3-D), so during the Queen's tours or during recordings, he could capture rare moments behind the scenes of one of the world's greatest rock bands. Now, after decades, these images are shared for the first time. Some photos have been completely processed only during the making of the book. Initially thought by Brian as a quick job, this project turned to May and his team in a real passion that has overwhelmed them for more than three years. Every time the book seemed to be close to the end, here are emerging new 3-D photos, forget whoever they were, which aroused a new wave of memories enriching the narrative. The book eventually became a fascinating collection of shots of Brian and Queen's lives over the past 50 years.
Published as an elegant high quality bedside book by Brian 'London Stereoscopic Company',  Queen in 3-D reveals the band, seen through May's eyes, throughout its long history. The book includes about 360 photographic illustrations, most of which are visible in their stereoscopic splendor (being the legitimate stereoscopic legacy of Virtual Reality) using the included OWL viewer. In addition to capturing images himself, occasionally Brian gave his camera to local friends or photographers, so he was immortalized on this trip as well. Brian tells the story that lies behind every image in a lively and engaging prose. Often in a light and colloquial manner, but sometimes also very thoughtful and philosophical, accompanying the reader towards a deeper contact with the image, space and time. Most of these memories of Brian concerning himself and his bandmates Freddie Mercury, Roger Taylor and John Deacon are here for the first time. Some pictures were taken on the stage; others behind the scenes, including some personal shots on the go and during free time, giving a closer look to the band never seen before. Freddie, an enigmatic character, jealously protective of her privacy, tried to break down once from the stage, avoiding being photographed. But he interacted in a playful and unconscious manner with Brian's camera and here we see the rare glimpses of this phenomenal showman immortalized by his bandmate and intimate friend. Current band fans will also appreciate contemporary sections,
This is an important book, not only because it captures the very essence of one of the world's greatest bands of all time, but also explores the culture, politics and atmosphere of the many countries where the Queen has performed. Brian has created a text that tells the changes made in the music industry along with the great changes in world history.
HOW TO SEE IMAGES IN 3-D
To share the magic of the original Victorian 3-D style with the 21st century audience, Brian has designed his exclusive stereoscope, OWL (Owl), which has become a standard in the stereoscopic world. In each copy of the book is a special edition of the OWL viewer, yellow Wembley (the legendary yellow jacket worn by Freddie Mercury at Wembley), placed carefully in the bookcase casket in its protective envelope. Your OWL is all you need to bring you into the incredibly three-dimensional reality of the Queen enclosed in this book.
Other Brian May and Queen's Activities:
The Queen + Adam Lambert started a tour of 26 dates on June 23 from Phoenix, Arizona. New dates are scheduled in the fall and will pass from Italy on November 10 (Unipol Arena). The band will feature a brand new show designed and created for this tour, bringing fans to their favorite hits of the Queen, including "Bohemian Rhapsody", "We Will Rock You", "We Are The Champions", "Another One Bites The Dust "and" Radio Ga Ga ". In the high-energy concert, the Queen will present their live catalog in all their passion and glory. Brian released on April 7th "Golden Days", a stunning new studio album with singer Kerry Ellis. The newest version of the Queen Monopoly game, to which Brian himself collaborated, is currently being sold in stores. Fans of this game will experience life on the road of the Queen, following the band's pursuit of the world. The decisions taken will determine whether you are able to do so or not in the music world! This Queen version of Monopoly promises to be among the bestsellers of all time. The much anticipated film based on Freddie's life, inside and out of the Queen, has finally reached the finish line and an official announcement is expected shortly. Brian and Roger will oversee the musical content of the film. The much anticipated film based on Freddie's life, inside and out of the Queen, has finally reached the finish line and an official announcement is expected shortly. Brian and Roger will oversee the musical content of the film. The much anticipated film based on Freddie's life, inside and out of the Queen, has finally reached the finish line and an official announcement is expected shortly. Brian and Roger will oversee the musical content of the film.
RELATED TO THE AUTHOR
Brian May, founding member and guitarist of the rock queen group, and co-creator of the international rock musical We Will Rock You, is also an astrophysicist with a PhD in Zodiac Disease Research, an avid activist in animal rights campaigns, and has always been a passionate about photography in 3-D. Recently, he has become a successful publisher, deciding to share his collection of stereo Victorian stereo stereotypes with the world through books published by the London Stereoscopic Company (a company recreation originally founded in 1854). Brian is currently on tour with the Queen, with Adam Lambert playing for the most part of the year, and composing, recording and performing with singer Kerry Ellis, one of the stars of the original cast of We Will Rock You and a successful actress in West End and Broadway. Brian's latest initiatives include the creation of 3-D, 360-degree, virtual reality movies including a forthcoming video clip made during the recent Queen and Adam Lambert Concert in Barcelona – and jokingly titled "VR the champions ".
THE TRANSLATION
It is entrusted to Raffaella Rolla, a true "Queen Expert" as well as a translator of great experience and abilities. He has been in the group for more than 20 years, and among other things he has worked for the Queen in the Italian production of We Will Rock You, for the Mercury Phoenix Trust, for the permanent exhibition Queen Studio Experience in Montreux and the previous translation of the book " The Red Special of Brian May ".
"My words are safe in Raffaella's hands, indeed I've never been so safe." Brian May
www.londonstereo.com
Brian May
Queen In 3-D
Luca Garrò
A ten-year-long music journalist, Luca Garrò writes or has written for some of our country's most famous music magazines, from Rolling Stone to Jam, for Rockstar, Rocksound, Onstage and Classic Rock, as well as being one of the founders of the online Outune magazine .net. He has been a fan of classic rock since childhood, has written hundreds of articles on the most disparate topics and is curating a biography of Brian May, whom he has been friends for several years. For five years she has been curator of the Pop Music Zanichelli Dictionary.