SAVONA NEWS
 3 October 2017 by Graziano De Valle
ENGLISH TRANSLATION BY BARBARA MUCCI – with thanks: [Italian  text follows]
"Queen in 3-D" translated by Raffaella Rolla: "I'm happy to live in Val Bormida"
"I'm so proud to have worked on this project. I found it so exciting and interesting"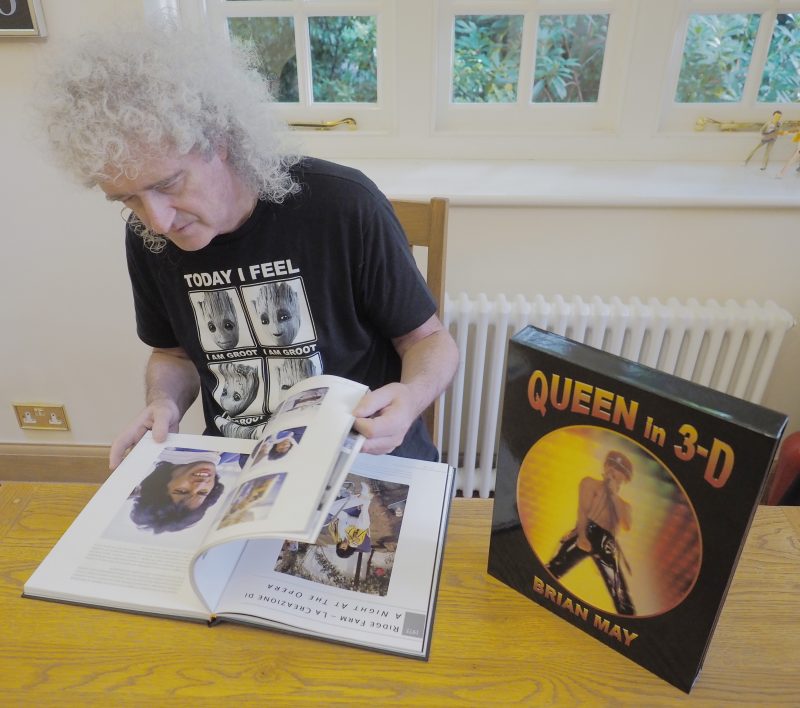 An intimate vision of the band from the inside, in 3-D style. This is the basis of "Queen in 3-D", a stereoscopic masterpiece which tells the story of the famous British rock band through Brian May's snapshots and memories.
From an early age Brian would travel with a stereo (3-D) camera in hand, so on Queen tours and during recordings he was able to capture rare behind-the-scenes moments of one of the world's greatest rock bands. Initially thought by Brian to be a quick job, this project turned into a labour of love for May and his team, which spanned three years.
The book features more than 300 never-seen-before stereo pictures, and it will be published in Italian language on 6th October by Edel Italy. Raffaella Rolla, who was born in Milan but now lives in Val Bormida, is the official translator. "I'm glad I moved to Val Bormida, where I can continue my work as a translator in the peace and tranquility of this valley and the nature that surrounds me – she says – I know, there are those who want to live in big cities and want to get away from the valley. I've made the opposite choice, I've decided to move here".
"My relationship with Queen dates back to more than 25 years ago, and although my literary and linguistic training is British (having graduated in England), the first contacts with them were not for professional reasons", Raffaella explains. "In 1991, struck by Freddie's demise, I decided to do something concrete about the fight against AIDS, so I joined a voluntary association based in Milan, the ASA, and tried to help. I was involved in some initiatives including the organization of charity events in memory of Freddie Mercury, and that was how I came into contact with Queen's management. I asked for the permission and sponsorship for organizing these events and their supervision or control over the funds raised. Since then, having organized these shows for three consecutive years, I gained the confidence of Queen's manager and later of the band. During the following years, a good relationship was established both at personal and work level and, not surprisingly, they often came to me for translations and collaborations of various kinds, , for the Italian production of their musical "We Will Rock You" for example, which arrived in Italy thanks to Barley Arts".
"I've known Brian for over 20 years now. To be honest, I wasn't the one who contacted him for the book, but Brian himself wanted me to do that, expressly asking the publisher that the translation was entrusted to me because I know the subject, but above all I know Brian very well, his way of writing and expressing himself, and for Brian, this is crucial", she says. "As with all his collaborators, he wants everything to be in the hands of the right and most competent person to do that job. That's why, as for the translation of this book, he said that his words are safe in my hands. Over the years, we developed an excellent relationship of mutual respect and trust. We reached a good understanding and we share many common interests that rarely have something to do with music. But I always keep things well separated: work and professionalism is one thing, but our personal relationship falls within the private sphere of friendship and, of course, I won't talk about this latter".
"Of course I'm proud to have worked on this project that I found so exciting and interesting and I am equally proud of this further proof of respect and trust by Dr. May", she continues, "and although you know you've gone as high as you could in your work, it's always good to feel appreciated and respected. Obviously, this is not the first book I translated for him, but already in 2015 'Brian May's Red Special' was published, the story of homemade guitar built with the help of his father, and over the years I collaborated with other projects related to Queen, such as the musical I have nominated above, or initiatives such as the permanent exhibition called 'Queen Studio Experience' in Montreux for the Mercury Phoenix Trust (the Aids Fighting Association founded in 1992 after Freddie's death), and many others. However, I would like to point out that although Queen have played an important role in my life, and they continue to, my job as a translator is not limited to them. In fact, in 2017, in addition to the publication of 'Queen in 3-D', I am proud to have completed some equally prestigious and important projects such as the travelling exhibition dedicated to Napoleon, which will open its doors in Turin at the end of October, and the collaboration with the International Alba White Truffle Fair (starting these very days), and all the events associated with it. This is to point out that, quoting Freddie Mercury who used to say 'If you're going to do something, do it with style', I love my work and I feel strongly committed with each project".
The engineer Paola Riccucci also took part in the Italian edition of the book. "In addition to being a friend of Brian May", she explains, "she is a great stereoscopic expert and I personally wanted her as a photography consultant".
"At present, given Dr. May's many commitments, both on Queen front and on the extra-musical one, not least his commitment to the battles in defence of animal rights, with his "Save Me" association, a date has not yet been scheduled", Raffaella says, "but I know that the publisher is making arrangements and let's see if we can have him a few days in Italy before he starts with the Queen + Adam Lambert European Tour. To be honest, the book is about Queen and focuses on 3-D photography, and given Brian's passion for photography I would not mind inviting him here in Val Bormida, perhaps at the opening of the Ferrania Film Museum, but it's not up to me to propose it".
The book is published in a box with a 3-D lenticular photo on the cover and featuring an exclusive 3-D stereoscope (OWL) patented by Brian May.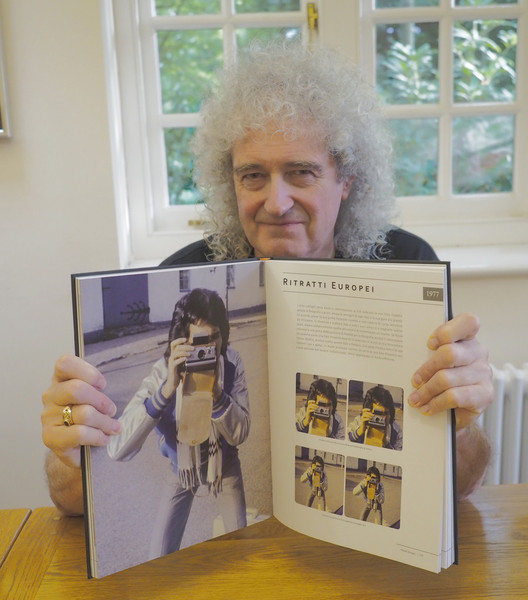 ITALIAN ORIGINAL
I 'Queen 3-D' tradotti da Raffaella Rolla: "Felice di vivere in Val Bormida"
"Fiera di aver lavorato a questo progetto che ho trovato molto appassionante e interessante"
['Queen 3-D' translated by Raffaella Rolla: "Happy to live in Val Bormida"]
Una visione intima dall'interno della band in formato 3D. E' questo il canovaccio del libro 'Queen in 3-D', un capolavoro in stile stereoscopico che racconta la storia della famosa band britannica attraverso i ricordi e gli scatti di Brian May.
Fin dagli esordi, il noto chitarrista era solito portare con sé una stereocamera (3-D), così durante i tour dei Queen o durante le registrazioni poteva catturare dei rari momenti dietro le quinte di una delle più grandi rock band mondiali. Pensato come una realizzazione veloce, il libro è stato terminato da May dopo oltre tre anni di lavoro.
L'opera che raccoglie più di 300 illustrazioni stereo inedite, sarà presentata in lingua italiana il prossimo 6 ottobre da 'Edel Italy'. La traduzione è stata eseguita da Raffaella Rolla, milanese di nascita, ma residente da circa sei anni in Val Bormida. "Sono felice di essermi trasferita in Val Bormida, dove posso continuare la mia attività di traduttrice nella pace e tranquillità di questa valle e della natura che mi circonda – racconta – lo so, c'è chi desidera la grande città e vuole scappare dalla valle. Io ho fatto la scelta contraria, ho deciso di trasferirmi qua".
"Il mio rapporto con i Queen risale a più di 25 anni fa e sebbene la mia formazione linguistica letteraria sia 'british', essendomi laureata in Inghilterra, i primi contatti con loro non furono per motivi di lavoro – spiega Raffaella – nel 1991, colpita dalla scomparsa di Freddie, decisi di fare qualcosa di concreto per la lotta contro l'Aids, cosi mi unii a un'associazione di volontariato milanese, l'ASA, e cercai di dare il mio aiuto. Mi impegnai in alcune iniziative fra cui l'organizzazione di eventi di beneficenza in memoria di Freddie Mercury e fu così che venni a contatto con il management dei Queen. Chiesi l'autorizzazione e il patrocinio per poter organizzare questi eventi e la loro supervisione, ovvero un controllo sui fondi raccolti. Da allora, avendo poi organizzato questi spettacoli per 3 anni consecutivi, ottenni la fiducia del manager dei Queen e in seguito della band. Con gli anni si instaurò un buon rapporto sia a livello personale sia lavorativo e, non a caso, si rivolsero spesso a me per traduzioni e collaborazioni di vario genere come per esempio, per la produzione italiana del loro musical We Will Rock You che approdò in Italia grazie a Barley Arts".
"Conosco Brian da più di 20 anni ormai. Per questo libro, ad essere sinceri, non sono stata io a contattare lui, ma è stato Brian a scegliermi, chiedendo espressamente all'editore che la traduzione fosse affidata a me perché, oltre a conoscere l'argomento, conosco bene lui, il suo modo di scrivere e di esprimersi, e per Brian, questo è fondamentale – racconta – Come per tutti i suoi collaboratori, lui vuole che ogni cosa sia nelle mani della persona più adatta e competente a svolgere quel lavoro. È anche per questo che, per quanto riguarda la traduzione di questo libro, ha dichiarato che le sue parole sono al sicuro e in ottime mani con me. Nel corso degli anni con Brian si è sviluppato un ottimo rapporto di reciproca stima e fiducia. C'è una buona intesa e condividiamo molti interessi che raramente sono collegati con la musica. Ma tengo sempre ben separate le cose, un conto è il lavoro e la professionalità e un altro è il rapporto personale che rientra nella sfera privata dell'amicizia e di quest'ultimo ovviamente non ne parlo".
"Naturalmente sono fiera di aver lavorato a questo progetto che ho trovato molto appassionante ed interessante e sono altrettanto fiera dell'ennesima dimostrazione di stima e fiducia da parte del dr. May – prosegue – per quanto si sia consapevoli di dare sempre il massimo nel proprio lavoro, fa sempre piacere sentirsi apprezzati e rispettati. Ovviamente non è il primo libro che ho tradotto per lui, già nel 2015 fu pubblicato "La Red Special di Brian May", la storia della sua chitarra artigianale costruita insieme a suo padre, e nel corso degli anni ho collaborato ad altri progetti legati ai Queen, come il musical che ho nominato in precedenza, oppure ad iniziative come la mostra permanente Queen Studio Experience a Montreux per il Mercury Phoenix Trust (l'associazione per la lotta all'Aids fondata nel 1992 dopo la morte di Freddie), e molti altri ancora. Ci tengo comunque a precisare che sebbene i Queen abbiano avuto un ruolo importante nella mia vita, e continuino ad averlo, la mia attività di traduttrice non si limita a loro. Infatti, in questo 2017, oltre alla pubblicazione di 'Queen in 3-D' sono orgogliosa di aver portato a termine dei progetti altrettanto prestigiosi e importanti come la mostra itinerante dedicata a Napoleone, che verrà inaugurata a Torino a fine ottobre, e la collaborazione con la Fiera Internazionale del Tartufo d'Alba, aperta in questi giorni, e gli eventi ad essa collegati. Questo per ribadire che, per citare Freddie Mercury 'Qualsiasi cosa tu faccia, falla con stile', amo il mio lavoro e mi dedico con passione ad ogni progetto".
Alla realizzazione dell'edizione italiana ha preso parte anche l'ingegnere Paola Riccucci. "Oltre ad essere anche lei un'amica di Brian May – spiega – è una grande esperta di stereoscopia e l'ho voluta personalmente in qualità di consulente per la fotografia".
"Al momento, dati i molteplici impegni del Dr May, sia sul fronte Queen sia su quello extra musicale, non ultimo il suo impegno nelle battaglie in difesa degli animali, con la sua associazione "Save Me", non è ancora stata stabilita una data – conclude Raffaella – Ma so che l'editore ne sta parlando e vediamo se riusciamo ad averlo qualche giorno in Italia, prima che riparta con il tour europeo dei Queen + Adam Lambert. Sinceramente, visto che il libro parla dei Queen ed è incentrato sulla fotografia in 3D, e considerando la passione di Brian per la fotografia a me non dispiacerebbe poterlo invitare qui in Val Bormida, magari in occasione dell'inaugurazione del 'Ferrania Film Museum'. Ma non sta a me proporlo!".
Il libro si presenta in un cofanetto con foto lenticolare 3-D in copertina e con un esclusivo stereoscopio OWL 3-D brevettato dallo stesso Brian May.