Plus, an exclusive, moving extract from Brian May's new photographic autobiography about 'gift from God' Adam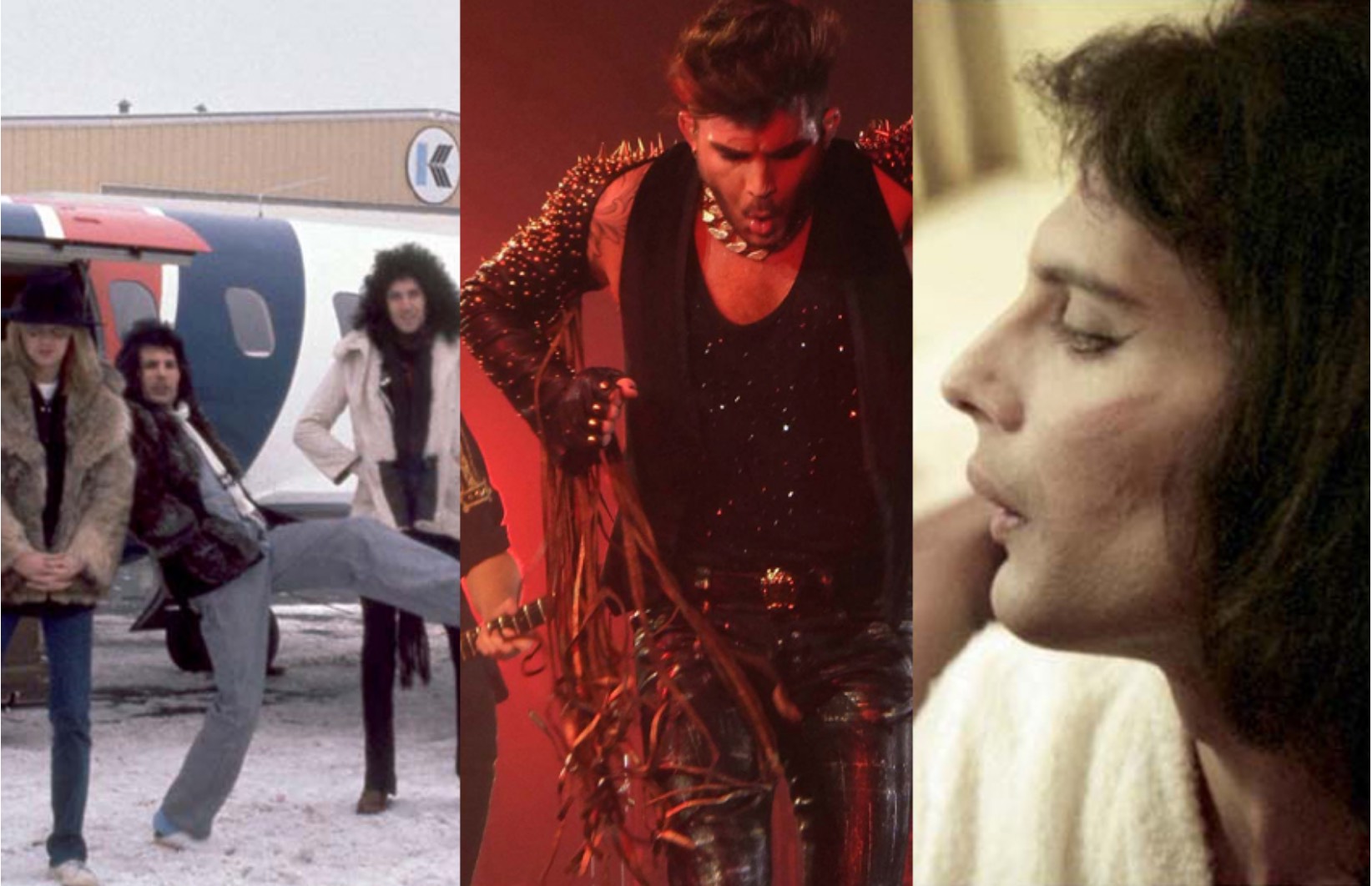 GAY STAR NEWS
Queen, Adam Lambert and Freddie Mercury
| Photos: Courtesy of Brian May/Queen in 3-D
28 November 2017 by Jamie Tabberer
He tragically passed away in 1991 at the tender age of 45.  But Queen frontman Freddie Mercury's memory lives on in the band's continued legacy – as well as in new, unseen photos from guitarist Brian May.
In his new book 'Queen in 3-D', the first to be written by a band member, Brian reveals hundreds of images of Queen's late, great voice, as well as Adam and the surviving band members – some, such as the below shot, and the fourth from bottom shot, for the very first time.  May also tells the story of exactly how Adam Lambert came to join the band in the book, as the band's latest tour hits the UK.
In one chapter, 'Enter Madam Lambert', May recalls how 'gift from God' Adam changed the course of Queen forever. Read the extract below.
'I suddenly started getting messages saying: "There is this incredible guy on 'American Idol' who has sung one of your songs in the competition, and looks like he may win the whole season." So I immediately checked out YouTube to find out what was going on; and, sure enough, there was this amazing young chap singing "Bohemian Rhapsody" – Adam Lambert.
'And it was evident that he was something completely out of the ordinary. And into my inbox came a deluge of people saying, "You must get together with this guy; he is the natural successor to Freddie; he is the guy you should be touring with."
'Then we got a call, Roger and I, inviting us to come and play in LA on American Idol, with the two finalists, one of whom was Adam. So we went over and did our live dramatic heroic entrance with these two boys, and it really was a fun experience.
'The idea of us working with Adam was seeded in our brains'
'They were both good singers and both had a good presence on stage, and it was easy to interact with them. But it was really blindingly obvious that there was a chemistry already between us and Adam.
'It just happened completely naturally and made us all smile. The public reaction was massive, and so I think from that moment the idea of us working with Adam was seeded in our brains.
'It was not to happen for quite a while, though, because Adam, in common with most of the contestants on these programmes, was signed up following the competition, which, incidentally he didn't win.
'But of course that made no difference. Adam was already perceived as a star by his fans and the media and that's without Queen having anything to do with it. In the fullness of time we found ourselves booked to do an awards show in Belfast, and Adam was booked to do the same show.
'We all thought it would be a blast to appear together, just to see what happened. So we did a couple of days of rehearsal and then, totally live (as we always are), on British TV we played "The Show Must Go On", "We Will Rock You" and "We Are The Champions".
'The response was stupendous. It was pretty much unanimously "this works". So immediately we started thinking, "let's try some gigs, just to see what happens."
'I always think that Freddie, with a wicked smile, would say something like "I hate you, Madam Lambert"'
'The thing snowballed very quickly, and we started a long and very fruitful association with Adam in which he has become one of us, part of our family. He's never attempted to be Freddie, and I think that's what endears him to the fans, apart from the fact that he is an extraordinary singer with an extraordinary presence.
'I always think that Freddie, with a wicked smile, would say something like "I hate you, Madam Lambert," because even Freddie would have been gobsmacked at his range and his ability to reinterpret these songs which the four of us originally created together.
'There are people out there who think it's something quite unforgivable that we should be touring at all. They think we should pack up our gear and go into an old people's home.
'But it's been very obvious that not just the old folks, but at least two new generations around the world have absolutely latched on to Queen music, and love it, and have woven it into their lives; and they love seeing us play it live with this "boy"!'
All photos in the book were taken on Brian's stereo (3-D) cameras, many by the rockstar himself.
The book comes with a 3-D viewer designed by Brian (he named it an Owl) that will bring the images to life.
Queen in 3-D is out now. Published by the London Stereoscopic Company.