ENTERTAINMENT FOCUS
31 May by Samuel Payne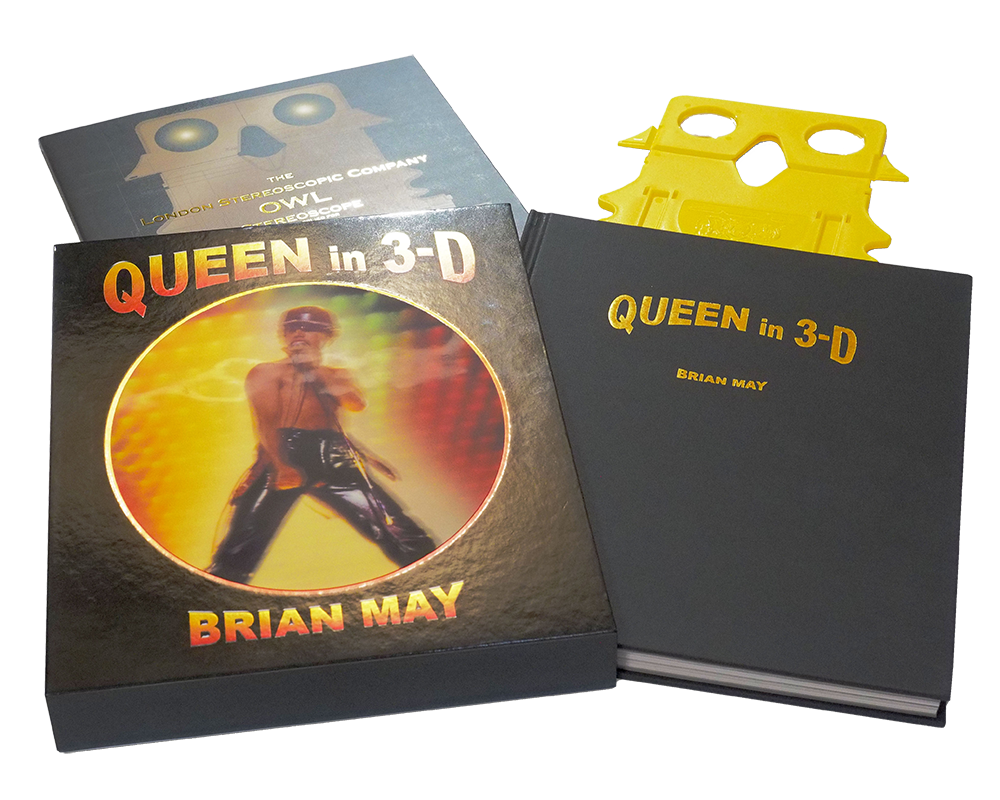 Dr Brian May is best known as a virtuoso guitarist and founding member of rock band phenomenon Queen. In recent years he's also been at the forefront of animal rights activism in addition to becoming a Doctor of Astrophysics, successfully popularising the subject in a number of publications and documentaries.
An additional dimension to May's expertise resides in his lifelong talent as a photographer. Some of his pictures have appeared in print over the years, particularly from Queen's worldwide tours. However, an aspect which has remained unseen is May's unique collection of stereoscopic images of the band rehearsing, recording and performing.
A technique pioneered and popularised during the Victorian era, Stereoscopic Photography is a process which captures two images, designed for binocular viewing through a device which creates the perception of depth. It's a simple yet impressive effect which has swung in and out of fashion over the past two centuries, however it has remained a vital tool in Astrophysics and medical photography.
Queen in 3-D brings together an exceptional collection of over 300 stereoscopic images from May's private collection, digitally restored and perfectly configured by The London Stereoscopic Company. The collection is also married with a self-penned memoir by May and is the first of its kind, offering a unique insight into the rock star lifestyle whilst charting Queen's journey from college band to champions of stadium rock.
The collection is lavishly presented in a folio slipcase with a lenticular cover of Freddie Mercury – a ribbed image providing an impressive 3D effect – coupled with the author's own self-designed stereoscope, the OWL III. Fashioned in bright yellow plastic, the 3D viewer evokes the iconic jacket worn by Mercury at Queen's 1986 Wembley performance. Simple and comfortable to use, the OWL is the instrument which allows the reader to peer into the past with astonishing depth and clarity.
May writes in an informal, friendly style throughout the book, expanding on the background of the images whilst offering technical notes on the photography. Part nostalgic reflection, part commentary on new technology and old, the first 30 pages cover May's childhood obsession with photography, the stereoscopic process and the techniques used throughout the book. May's lifelong fascination with the technical aspects of art are declared in these pages; an inquisitiveness which would lead him to build his own guitar whilst pursuing a double career in science. His love of photography is mirrored by his passion for music, which is evidenced in a series of pictures of the author with his cherished collection of cameras and guitars.
Aware that this book will appeal to all ages, May writes for a 21st Century digital native (those below the age of 25) who likely haven't experienced the pleasures of vinyl and traditional film photography. Queen in 3-D demonstrates, in its most potent form, a period where performers were supported with relatively primitive but impressive technology. There is a real sense that this book not only captures the band in all their pomp of the 1970s and 1980s, but also reflects on an era where new technology drove forward new forms of art. It was also technology which was often difficult to master; be it the sumo world of photochemistry, the discomfort of tungsten stage lighting or the complexity of analogue recording processes. In many ways, May is documenting how technology and its relationship with art has drastically evolved.
A stereo "selfie" of Brian May with his 35mm Stereo Realist Camera. Photograph: Dr Brian May.
The London Stereoscopic Company brings May's collection together in a restoration project which presents images perfectly configured for use with the OWL viewer. The pairs of playing-card-sized pictures appear colourful but unassuming on the page, however once observed through the easy-to-use viewer, they expand into a detailed landscape offering exceptional detail and depth. May's photography is remarkably candid, capturing the band at work and play, offering impressive stereoscopic effects due to the photographer's eye for 3-D.
May had been experimenting with 3-D photography since he was a child, so by the time he was shooting Queen on his stereoscopic cameras he was ensuring points of interest populated the frame in addition to the main subject. The best pictures work with busy foreground and background layers; there is an exceptional image of Freddie Mercury leaning into shot with his own Polaroid camera in addition to a generic shot of May stood behind a cactus which takes on a very aggressive magnitude in 3-D.
Of great interest in this collection is an abundance of stadium performance photography. May's images have not only captured the scale of the events but also the atmosphere; huge lighting rigs festooned with blazing par cans – essentially aircraft landing lights – slice through clouds of haze which float and swirl within the images. It's a wholly immersive and captivating effect which has rarely been exploited to such effect in 3-D photography. There is a tactile sense that the viewer is amongst the heaving crowd in these energetic and atmospheric performance shots.
Intimate portraits also feature heavily in the book. The big hair of the 1970s and spiky nature of 1980s styles claw out of the frame, whilst a number of Roger Taylor portraits invite you to reach in and snatch his sunglasses. Behind-the-scenes snapshots of rehearsals and rigging also allow locations to take on a new scale, with cases of stage gear appearing huge next to the tiny figures of the band. The unique patina and grain of film is persistent throughout the collection and provides an earthy texture and glamour to the images which digital can only attempt to emulate.
A selection of tack-sharp, full-page 2-D shots punctuate the stereoscopic action. These include a selection of wide-angle fisheye photographs which offer an immersive quality all of their own – albeit in mono. The compositions are endlessly inventive and interesting, providing a fresh insight into the life of the band but also an analysis of May himself. As a founding member of one of the world's most successful and energetic rock bands, we see the world through May's own eyes and it's not always the perspective of a commanding stage performer. More often than not, Queen in 3-D offers the viewpoint of an inventive and inquisitive boffin, who is fascinated not only by the art of photography but also by its theoretical principles. Between concerts, he playfully snaps quirky objects in 3-D – such as a collection of Magic Roundabout figures – whilst also building a series of experimental double exposures, light paintings and timed self-portraits.
The collection is an intimate and personal collection on one level, yet a bravura demonstration of spectacular performance on the other. Brian May's artistic inventiveness explored new means of creating images and in the process, captured the essence of an incredible band in a unique and tactile visual form.
Superbly presented, warmly written and offering incredible print quality, Queen in 3-D is an irresistible coffee table book. It's stylish, immersive and highly entertaining. For connoisseurs of rock music, the book is an essential record from one of the founding bands of modern music. For photographers, it's an indispensable example of experimental and innovative photojournalism. There is quite simply no record of this era which is so uniquely captured than through May's stereoscopy; offering an odyssey into the past with all the immediacy, urgency and living reality of 3-D.
Publisher: London Stereoscopic Company Ltd Release Date: 25th May 2017